SECockpit Background
I've written this SECockpit review in the hope it will give you enough information to make an informed decision as to whether SECockpit is the right keyword research tool for you.
It's certainly not my aim to give you an unrealistic and hyped up review of SECockpit that you'll see on some other sites.
I've been lucky enough to use SECockpit since the very first limited release.  I've seen the product develop and evolve into the fully featured keyword research tool it is today.
Firstly, in case there's any confusion, there is no relationship between SEO cockpit and SECockpit.  It's a bit unfortunate that the names are so similar, but I guess there's only so many combinations of product names you can come up with that have SEO and Cockpit in them.
SECockpit is a product from the SwissMadeMarketing team of Shane Melaugh and Sam Haenni.
Some of you will know Shane from his previously released products such as Backlink Battleplan and Sam has recently partnered with Shane as the brilliant technical person.
SECockpit was made available via invitation, so it has had a lot of real world testing before the public launch on July 5th.
Click here to visit the SECockpit Official Site
SECockpit Components
SECockpit has two main components:
Keyword Research – this is the heart of SECockpit where you do all your keyword searches, analysis, filtering and arranging your results.
Project & Task Management – this is where you can track your various projects and automatically assign tasks and track project revenues.
Obviously it is the keyword research component of SECockpit that will be of great interest to most people and the area where I'll be concentrating on in this article.
SECockpit Overview
The  screenshot below shows the main SECockpit keyword search results.  The green niche bar gives you an idea of the niche strength, which is based on search volume, competition strength and a few other factors.
Keywords where the green indicator is high, are definitely worth checking out.
The competition strength is show by the orange bars.  This is broken down into positions 1-3, 4-7 and 8-10.   Having this breakdown can let you know how easy or not it is to get on page one and more importantly, how much competition there is for the first three spots (which after all, is where you really want to rank).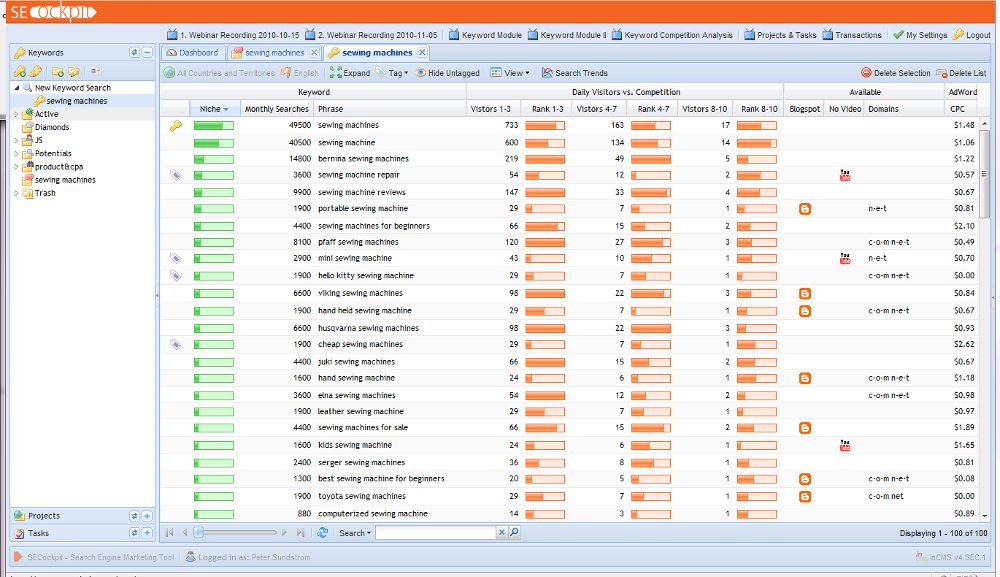 SECockpit Videos
The best way to get an idea of how SECockpit works and the features it offers is by watching the following videos I made.
In the video below, I give you an overview on how SECockpit looks and operates.
There have been a number of changes and improvements to SECockpit since I recorded this video, but the core functionality hasn't changed.
There have been improvements in the filtering and keyword options, eg: grabbing keywords from Google Wonderwheel, Google suggest etc.  There have also been additional columns added so that you can see if there are things like Youtube, Amazon, or Google Sniper pages in the top 10 results.
In this second SECockpit video, I go over some of the additional features and options that weren't available when I made the original video.
What are the advantages of SECockpit?
There's certainly no end of keyword research tools on the market and I've used quite a few, eg: Market Samauri and Keyword Elite.
Now while, those keyword tools are certainly not bad, there's one attribute they all share – they rely on the data from Google and Yahoo.  This is primarily the Google Adwords Keyword Tool for the search numbers and results and Yahoo explorer for backlink information.
Now SECockpit certainly uses Google Adwords Keyword Tool for getting a lot of its information, but there are some major differences:
1.  The range and diversity of keywords
You can greatly increase the number and diversity of keywords you are searching on by using the SECockpit Google Suggestions and Wonderwheel options.  In particular Google Wonderwheel can be a great source of long tail and related keywords.  SECockpit can dig down to 2 levels in the Wonderwheel, which can potentially find a few great keywords that you wouldn't normally find with other keyword research tools.
2.  Competition Analysis
Most importantly, the competition analysis uses data supplied by SEOmoz.
If you're not familiar with SEOmoz, they crawl the web and collect their own search data and metrics which is more complete and more accurate than what Google provides.
Most other keyword tools rely on a combination of data that is mostly supplied by Google for their analysis.
3.  SECockpit is a web Application
This means it is OS independent as it runs in your browser.
It also has the advantage that your local computer won't get a temporary ban from Google for performing too many requests.
Additionally, as the processing is done in the cloud, the results are fast.  If you were to do the same type of processing on your local computer, it would chew up a lot of resources and take substantially longer to give you results.
4. Integrated Project and Task Management
Now while I don't yet use the project and task capabilities of SECockpit, I can see that they would be useful for some people, although I suspect most people wouldn't bother with it as they have their own methods for tracking projects.
SECockpit allows you to create projects around sets of keywords.  It then has built in  task lists based on the type of project that you can use, or create your own.
The screenshot below shows the the project creation: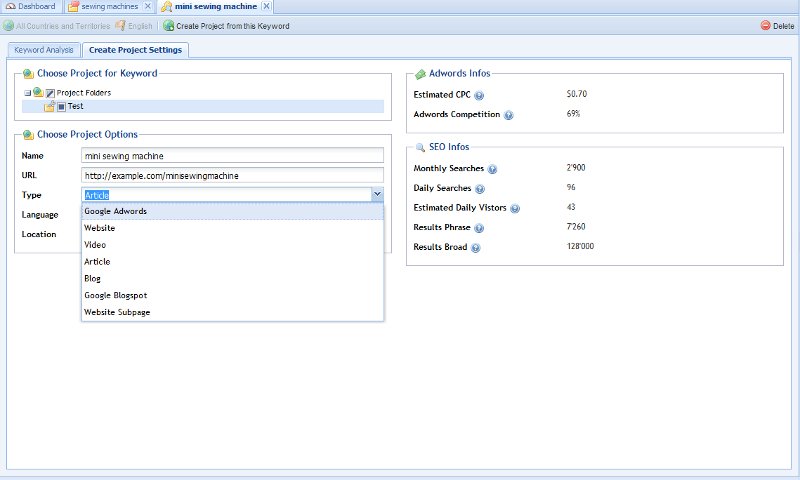 Interview with Sam Haenni – SwissMadeMarketing Co-founder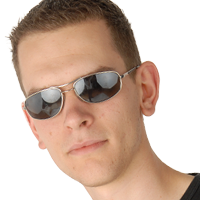 In this interview with Sam Haenni, Sam discusses:
the background behind SECockpit
technical challenges along the way
number of keyword searches that SECockpit performs
future development plans for SECockpit.
[wpaudio url="http://umstrategies.com/wp-content/uploads/2011/07/sam-haenni-interview1.mp3″ text="Sam Haenni Interview discussing SECockpit"]
SECockpit Pricing
The pricing for SECockpit may be considered expensive for some people, but you need to keep in mind that SECockpit is a premium product and uses a lot of infrastructure to perform the massive amount of processing it does for every keyword analysis.
I have seen a number of new keyword research services on offer that utilize SECockpit as the tool they use for keyword research.  In these cases, the SECockpit monthly fee would be quite easy to cover and make a sustainable business model.
SECockpit Final Thoughts
It takes quite a bit for a keyword research tool to impress me, but I could see the value and worth of SECockpit from day one and having used it extensively, I can vouch for the results I've gotten.
One tip I would give is to not get too hung up on trying to find "diamonds".  When I initially started using SECockpit, I discarded any keywords that didn't have a "diamond" ranking.  This was a mistake as I was missing lots of good keywords.
I personally think keywords with "diamond" rating are generally quite difficult to rank for as the SECockpit algorithm is biased towards the number of daily searches.  That means if a keyword has a large number of daily searches and relatively low (that's lowish for a high competition keyword) then it may get a "diamond" rating.
In general, it's probably fair to say that "diamond" keywords are high reward, medium/high effort keywords.
While some people might be put off by the SECockpit pricing schedule,  you need to consider the power of SECockpit and the tools you are getting for your money.   At the very least, you could sign up for one month, to try it out and see if you agree that it's the best keyword research tool available.
Bottom line is that I have no hesitation in stating that SECockpit is by far and away, the best keyword research tool I've ever come across.
>> Click here to find out more about SECockpit<<
Cheers