Review of WP Syndicator WordPress Plugin
A few days ago I posted an interview I did with Andy Fletcher who is the creator of WP Syndicator and I'm now giving you my review having used it for a while.
I've been using WP Syndicator since its first beta release and it's become one of my most important WordPress plugins in my standard SEO kit.  I've installed it on all my main blogs.
In a nutshell, WP Syndicator allows you to automatically syndicate your blog posts to high value web 2.0 sites and gain a whole lot of quality backlinks plus directed traffic to your site.
The only effort involved is initially setting up the accounts on the various web 2.0 sites before you can syndicate your posts to them.  This task will take around 30-45 mins to complete, but once it is done, you don't need to worry about it again.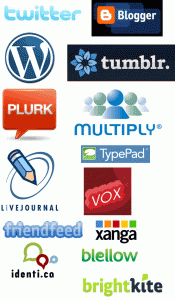 Syndication Sites
The image on the left shows some of the web 2.0 sites that WP Syndicator will post to.  This includes the major blogging sites such as WordPress.com and Blogger.com as well as micro-blogging sites such as Twitter.
As Andy mentioned in his interview, he's always looking to add new sites if they are valuable.
You can configure WP Syndicator to set the maximum number of characters you want in the syndicated post (default 500 characters).
You can also configure the anchor text per post.  The default is "Read more…", but you have the flexibility to make it anything you like, so including your keywords can be very useful.
When you want to syndicate your article, you can either set WP Syndicator to automatically syndicate it, or you can go into the WP Syndicator control panel and choose which sites you want to syndicate to and hit the button.
The great thing about WP Syndicator is that you can go back to all of your old posts and syndicate them as well.
WP Syndicator Video Overview
Rather than have me ramble on about how WP Syndicator works, I think the following short video by Shane Melaugh will give you a really clear idea of what it does.
Andy is very responsive to any changes and has made a number of improvements since the original release based on feedback he received from early adopters.