What Can Five Dollars Get You?
These days, five dollars doesn't go very far.  However, I've discovered a website where five dollars can potentially get you a lot more value than your five dollar outlay.
There is a new site called Fiverr (don't worry, there's no affiliate links or fees involved) which allows you to advertise products and services for five dollars and more importantly, buy products and services for five dollars.
You might be thinking "What can I get for five dollars that's worth anything?"  Well, you'd be surprised what some people will do for five dollars.
To give you an example, here's a screenshot of some of the offers in the "Silly Stuff" category: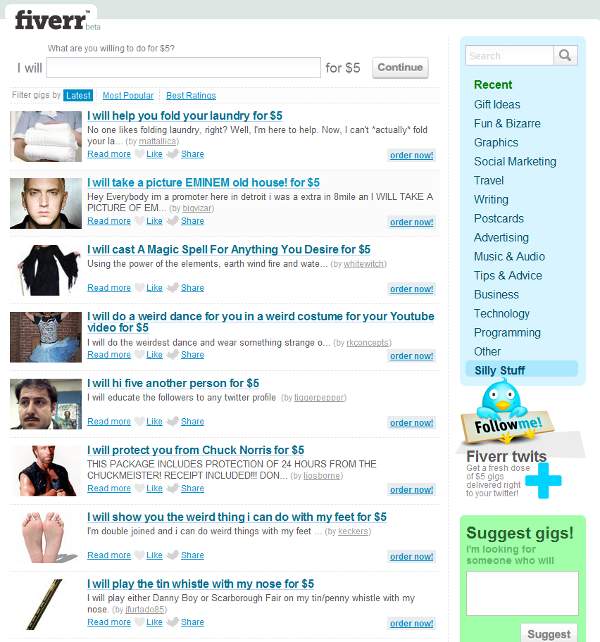 OK, now some of those items are pretty silly, but it does give you an idea as to what lengths some people are prepared to go for just five dollars.
Let's look at the potential from a marketing perspective.  There are a number of Fiverr categories that can contain some real gems, eg:
Social Marketing
Writing
Advertising
Business
Programming
Technology
For example, in the Advertising category, you will see all the usual offers for backlinking services that you're probably familiar with (and need to have a certain amount of caution if using them), but there are more interesting and more value items on offer like putting your banner/ad on a high traffic/PR site,  advertising you site on someone's car, arm, t-shirt etc.
The other cool thing about Fiverr.com is that you can post any request (within reason) and if you get lucky, you might just find someone willing to do it for just five bucks.
The site is still quite new and is officially in beta, it's a very active site and for only five dollars per "gig", you don't have much to loose.