With such a huge range of WordPress plugins to help build your mailing list, you might wonder what Hybrid Connect has to offer that makes it different to all the other similar plugins.
Over the last few years I've used a number of popular plugins to handle email opt-in forms, popups, popunders etc, but I've settled on using Hybrid Connect for all my sites.
You've probably already noticed that I use Hybrid Connect forms in various locations and designs on this website.
To find out how I came to the decision to use  Hybrid Connect exclusively on all my sites (and for clients), read on…….
Hybrid Connect Summary
Official Website:   http://hybrid-connect.com
Publisher:  IM Impact – Shane Melaugh & Paul McCarthy
Price: $39 for Single Site, $57 for Multi Site and $127 for Professional License
Guarantee: 30 day money back guarantee
Video Review
For those of you that prefer the visual medium, the video below gives a good summary of using Hybrid Connect.
Hybrid Connect Features
I'm not going to bore you with all the features of Hybrid Connect, as it does a lot of the stuff most other similar plugins do.   Instead, I'm going to cover the features that I considered to be major factors in my decision to purchase Hybrid Connect.
Facebook Sign Up
Firstly, the main selling point of Hybrid Connect is its ability to show an opt-in form with either the traditional email address sign up, or Facebook connect, depending on whether the visitor is logged into Facebook or not.
Note that this hybrid feature is entirely optional.   On one of my client websites, I turned off the Facebook option as their target audience weren't big Facebook users.
You have complete control over how you want Hybrid Connect to operate.
Form Designer and Customization
While my web design skills are OK, anything that makes the task easier is most welcome.
Hybrid Connect comes with a range of pre-designed templates that you can use as your starting point for building your forms.
The screenshot below shows a small selection of the various templates.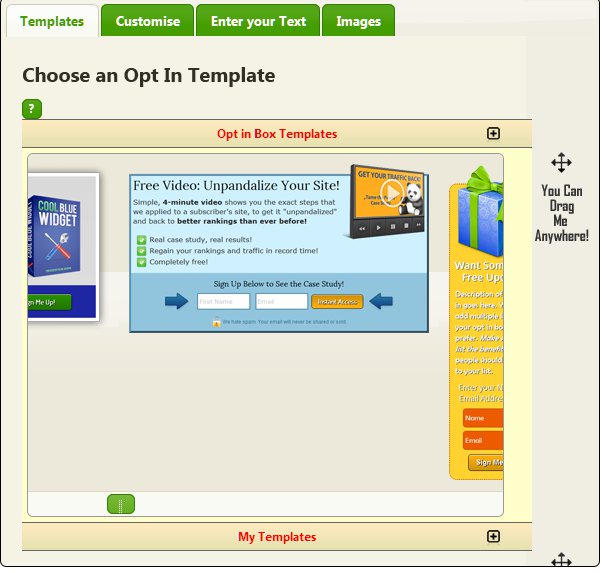 Once you have chosen your template, you can edit the text and images.
To get the form looking exactly how you want, there is an extensive list of customization options that you can tweak.   If I was being nitpicking, I'd say that the customization options might be a little overwhelming for some people and it would be nice to see a basic/advanced settings for customizing.
The screenshot below gives you an idea of the types of elements you can change.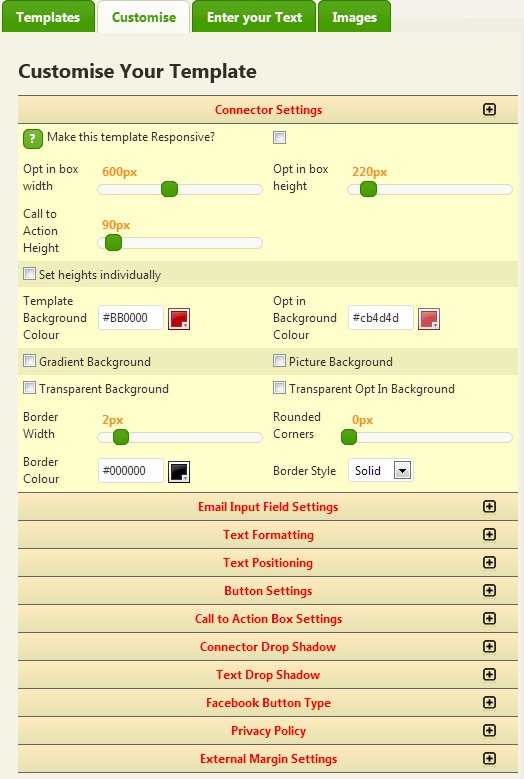 It is important to note that while there are a large number of options to tweak, as you get a preview of the form that instantly updates whenever you change the settings, you can easily see what affect each option has.
Flexibility of Form Placement
I really like that you can display Hybrid Connect forms pretty much anywhere you like on your site, either via the built in settings, shortcodes, widgets  or the raw code you can insert anywhere on your theme.
Hybrid Connect allows you to create:
Forms on any post/page
Forms at the bottom of any post/page
Widget to add forms to the sidebar
Lightbox form
Squeeze page
Slider Forms
Hybrid Connect Support
Quite often, one major factor that is commonly overlooked when purchasing software is the level of support and upgrades you get.
Too many times I've purchased software from seemingly reliable sources, only to find that when it comes time to get a response to a support ticket, the reply is either not helpful or in a lot of instances, it is non-existent.
I've been using Hybrid Connect since it was initially released as a beta product.   As it was an early release, I did find some bugs and limitations with it, but I was highly impressed with the level of support I received and a number of suggestions I made to improve Hybrid Connect were incorporated into later releases.
Additionally, because  this product was created by Shane Melaugh, I have a very high level of confidence that the support and development of Hybrid Connect is solid.   I can base that opinion on Shane's previous excellent track record with looking after his clients.
Summary
Given my very favourable impressions of Hybrid Connect so far, I have great confidence that you'll find it one of the best list building plugins out there.
I encourage you to try it out for yourself.
  Click here to visit the Hybrid Connect website
Cheers