Yahoo Site Explorer (YSE) was finally closed in November 2011.
YSE was without a doubt, the most popular tool and source of information for seeing what backlinks a site has.   Many tools and plugins used YSE to get their backlink data, so they all have been affected as well and have had to move to a new backlinking data source.
So now Yahoo Site Explorer is dead, what are the alternatives?
In this article, I will be taking a look at four alternatives for YSE.
Note that the services some of the serviced I've reviewed have paid subscriptions, I am only looking at the features/reports that you get with their free offerings.
Backlink Reporting Sites Reviewed
The four sites I'm be taking a look at are:
One thing to note is that all of the four sites will give you different data and different results.  Unfortunately when it comes to backlink data, there just isn't any resource that can give you 100% accurate results.
Videos of Yahoo Site Explorer Alternatives
For those who prefer the visual medium, I've created the following two videos to give you an overview of what each of the sites offers in terms of backlinking data and other SEO data.
This video covers Open Site Explorer, Majestic SEO Site Explorer and Blekko.
This video covers Ahrefs.
Open Site Explorer

Open Site Explorer (OSE) is operated by SEOMoz, who are a highly respected SEO organization.
OSE has free and Pro membership levels, with the paid membership getting you access to additional reports and services.
The reports you get in the free version of OSE include:
Inbound Links
Top Pages
Linking Domains
Anchor Text
Ability to compare backlink metrics between up to 5 sites
The following OSE screenshot shows the default Inbound Links report.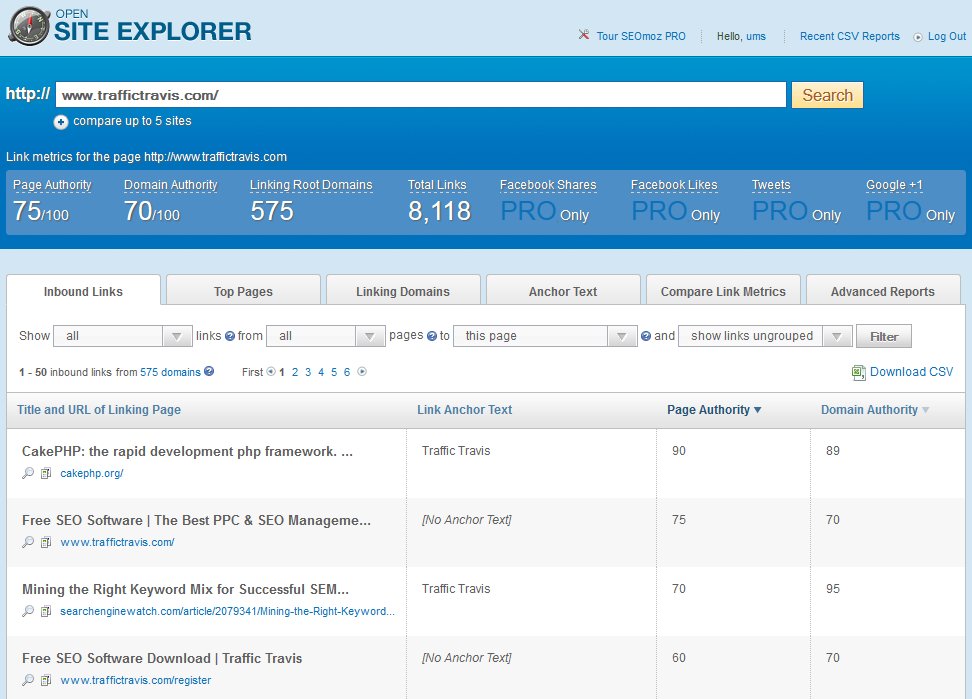 Open Site Explorer Summary
While there is some very useful data returned by OSE, probably the biggest issue is the freshness of the index.  Even though the index is large, it is only contains about 25% of all sites on the web.  That's one of the reasons why the total number of backlinks reported is substantially fewer than what the other sites report.
Additionally, the data is only refreshed every 30 days or so, which means there is always a lag between new backlinks and when they are reported.
 Click here to try out Open Site Explorer
Majestic SEO Site Explorer

Majestic SEO currently would rank as the most popular Yahoo Site Explorer alternative.
Just about every piece of software like Traffic Travis, Market Samurai etc, all changed their backlinking data source from Yahoo to Majestic SEO.
Like OSE, Majestic SEO Site Explorer comes in free and paid subscription versions, where the paid subscription gets you access to more data.
Majestic Site Explorer reports include:
Top Backlinks
Referring Domains
Top Pages
Backlink History
Majestic SEO also have a few additional SEO tools that you can access.
The following Majestic Site Explorer screenshot shows the default summary returned for a site.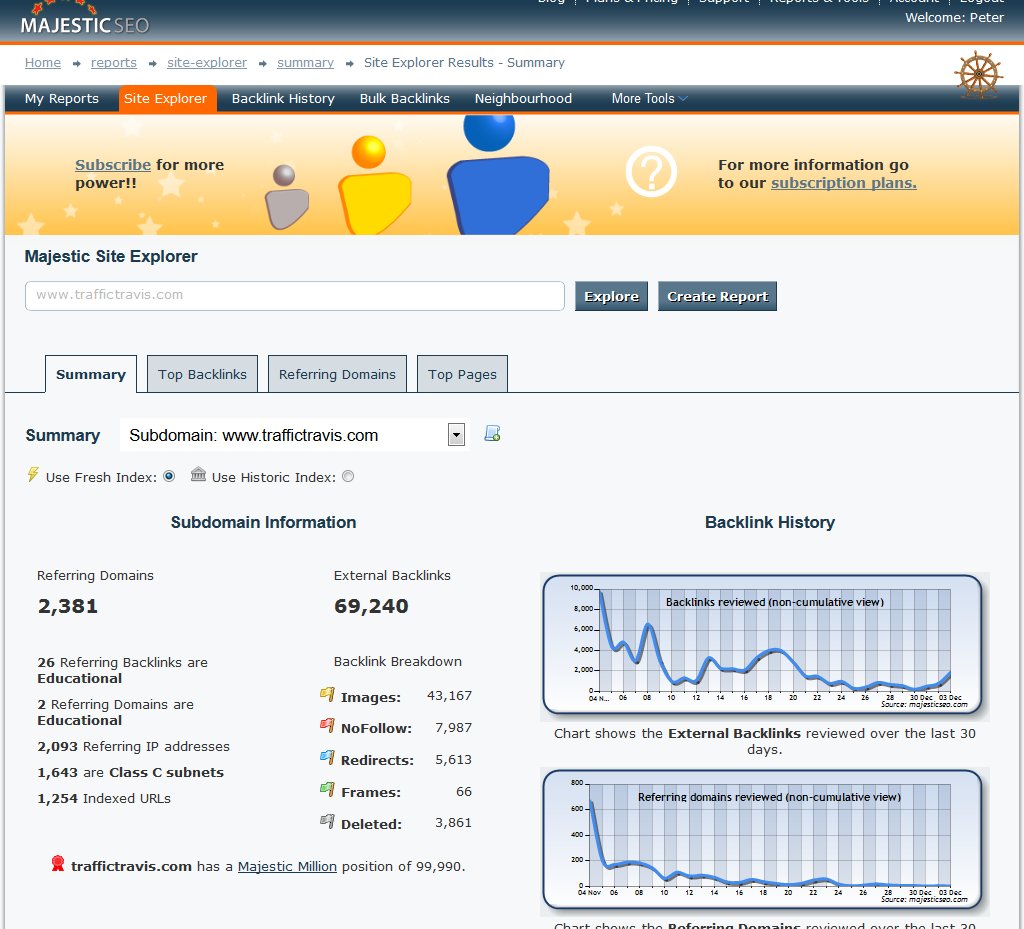 Majestic Site Explorer Summary
There's a good reason why Majestic Site Explorer is popular, and that's due to the size of the data and more importantly the freshness of the data.
Since March 2011, SEO Majestic update their index daily.  In the backlink history reports, you can use the "Fresh Index", which shows you backlink data from the last 30 days, or you can use the "Historic Index" which shows you all available backlink data that Majestic SEO have for a particular site.
Click here to try out Majestic Site Explorer
Ahrefs Site Explorer

Ahrefs Site Explorer isn't as well known as Open Site Explorer and Majestic Site Explorer, but it does have some very useful data that the other sites don't.
Ahrefs is another free/paid subscription service.   If you don't register, you are limited to 10 queries per day, if you register for a free account, you are limited to 20 queries per day.
Ahrefs Site Explorer reports include:
Top Pages
Backlinks
Anchor Text
Referring Domains
Referring Subnets
There is also a SERPs Analysis function that is really handy as it will show you what keywords a site is ranking for and their position and movement in Google, Yahoo and Bing.
The following Ahrefs Site Explorer Screenshot shows you the default information returned.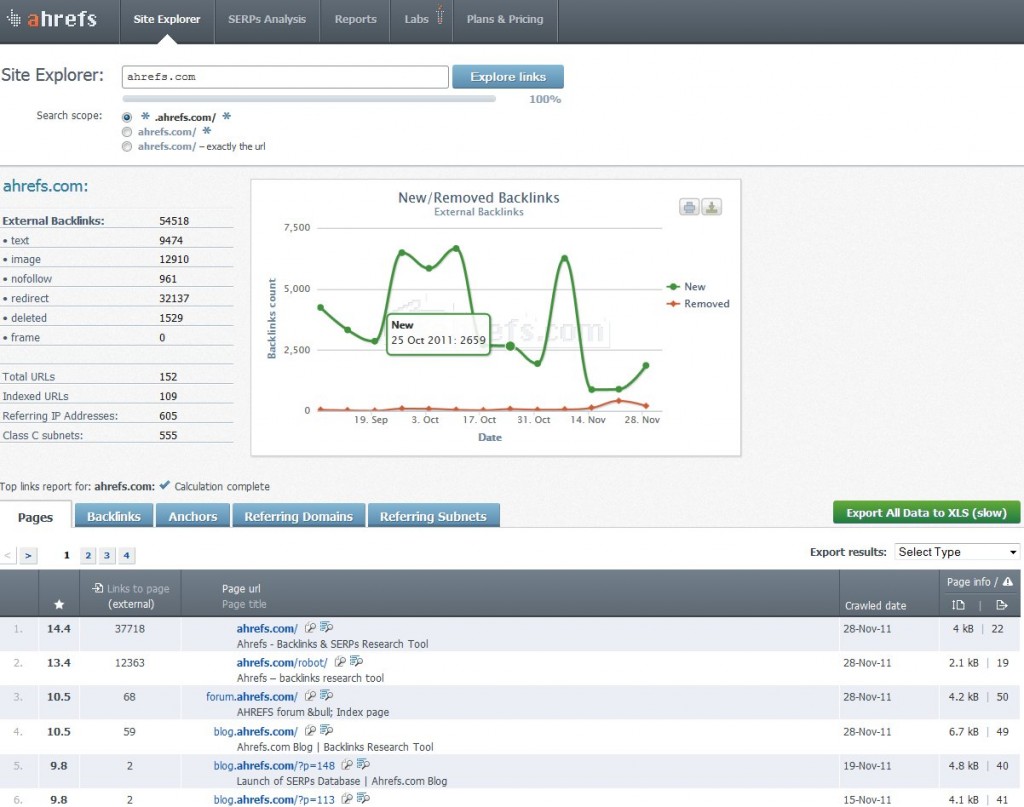 Ahrefs Site Explorer Summary
Even though the free version of Ahrefs is more limited than the other sites, the information it returns is very useful.   In particular, the ability to see what keywords and what rankings a particular site has is great when you are doing competition analysis.
Click here to try out Ahrefs Site Explorer
Blekko

Blekko is different to the previous sites as it is primarily a search engine.   However, it is a very flexible search engine that gives you very useful SEO data.
Blekko uses special filters/modifers that they call slashtags.  One of these slash tags is /seo, so when you do a query like:
somedomain.com /seo
You will get all the SEO data for that particular domain.
Blekko SEO Reports include:
Inbound links and their location
Outbound links
Internal Links
Crawled pages and their rank
Domains that contain duplicate content
The following Blekko screenshot shows the default SEO information returned.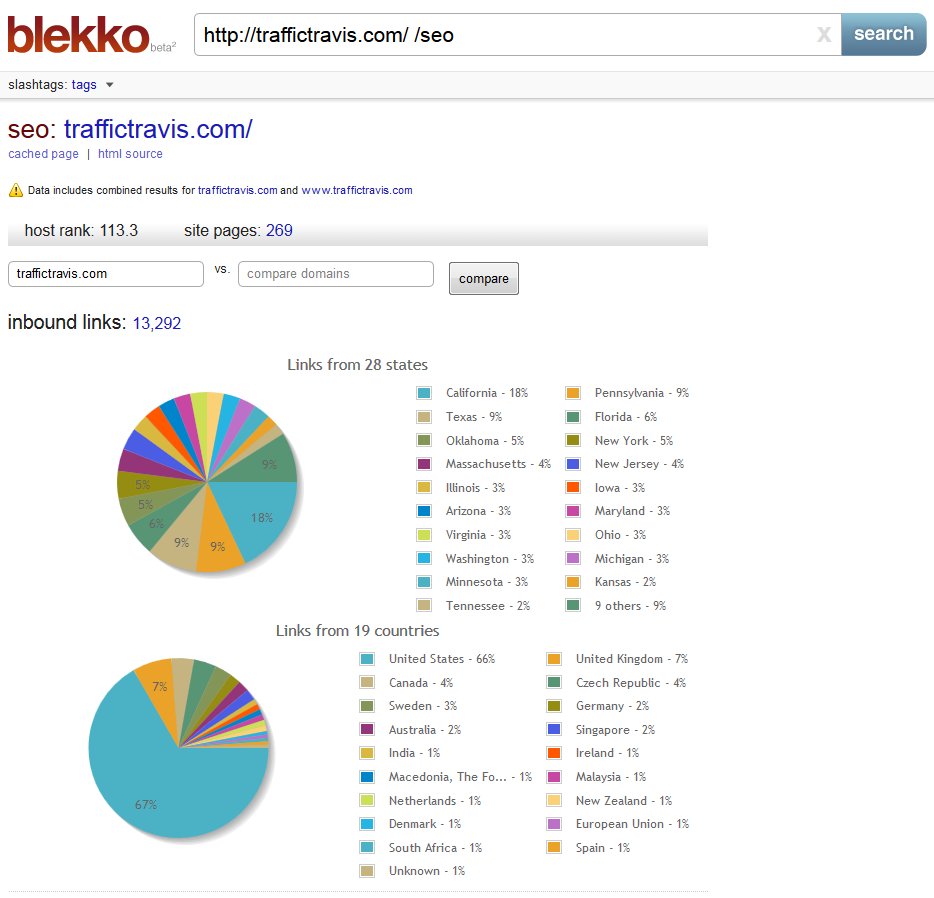 Blekko Summary
Of all the newer search engines that have been created, I've found Blekko to be the most interesting and most useful.
While it's backlink data isn't as detailed as the other sites, it is free, fast and easy to use.
Recommendations
A lot of the time, the type of information and style you like to see it in comes down to personal preference, so my main recommendation is to try out all four sites and see which you like best.
That said, my two favourite sites are:
1.  Majestic Site Explorer – This is mostly due to it having the most comprehensive and accurate backlink data of the four and the freshness of the index.
2. Ahrefs Site Explorer – I like to use this site to get SEO data that the other sites don't provide, eg: keyword/ranking data.
If you know of any other similar sites (that are free to use), please leave a comment below.
Cheers