Digi Launch Pad is the latest creation from Andy Fletcher of WP Syndicator fame and creator of DigiResults.
Digi Launch Pad is a specialized WordPress Theme that is designed to make product launches a breeze.
There's certainly quite a few other products on the market at the moment like Kajabi and JVPress, so how does Digi Launch Pad stack up against them?
Read on to find out…

Digi Launch Pad Overview
| | |
| --- | --- |
| Product | Digi Launch Pad |
| Creator: | Andy Fletcher |
| Product Type: | WordPress Theme |
| Price: | One-off $97 fee |
| Guarantee: | 60 days full refund |
So What Can Digi Launch Pad Do?
Simply put, Digi Launch Pad is primarily a platform for easily creating the all the content and structure you need for a product launch. This includes things like:
Creating Squeeze Pages with your preferred autoresponder
Creating timed pre-launch pages
Creating sales pages
Creating one time offers
Creating thank you pages
Creating your legal content, eg: privacy policy, terms of use, disclaimers etc
Creating your sales and pre-launch videos
Creating downsell pages
Adding social media features such as Facebook commenting and Twitter
Creating product testimonials
You don't have to use Digi Launch Pad just for product launches.  It's also very useful for quickly creating simple squeeze pages if you are on a list building exercise, or for creating pages where you want to integrate video as there are no plugins and hand coding of HTML required.
Digi Launch Pad Video Overview
With these types of products, it's generally easier to view some videos to get a feel for the product.
Here's a selection of short Dig Launch Pad video tutorials created by Andy Fletcher:
As you can see from the above videos, Digi Launch Pad is very easy to use and configure.  It is really designed for people who don't like to get their hands dirty with HTML, CSS and any other technical stuff.
Interview with Andy Fletcher
In the following interview with Andy Fletcher, I ask Andy about the background to why he created Digi Launch Pad and DigiResults (which is the affiliate network it runs on).
Andy also covers some of the future developments planned for Digi Launch Pad and some of the upcoming products he has planned for release on DigiResults.
Listen to my interview with Andy Fletcher below.
What Type of User is Digi Launch Pad Best For?
Let me just say from the start that while Digi Launch Pad is a great product, it's not suited to everyone.  If you are after a fully integrated product suite that includes things like affiliate management, payment processing and membership management, then you are probably best off with something like Nanacast or FushionHQ.
Additionally, I've seen some people ask if Digi Launch Pad is suitable as a general WordPress theme.  Technically, there's nothing stopping you using it for a general website/blog, but you really are missing the point of what it's designed for if you use it like that.
The type of user that Digi Launch Pad is really focused on is someone who is either new to launching their own product, or people who have done product launches in the past and have had trouble with all the technical aspects required for a good launch sequence.
While, I'm a pretty technical person and have no problem with modifying HTML, PHP, CSS etc, I can really appreciate the ease and time saving you get using Digi Launch Pad.   I know from experience that getting all the technical bits right and integrated with each other can sometimes take a lot of valuable time that could be otherwise used for important things like content creation and promotion.
When I was testing Digi Launch Pad, I created a simple squeeze page and corresponding page with the video tutorial in less than 5 minutes.
Below is a screenshot of the squeeze page.  Note that I only had to check three options and add a single sentence to the content.  That's all that was required.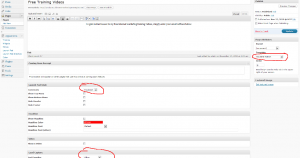 Final Thoughts on Digi Launch Pad
I have to say that the Digi Launch Pad Sales Page isn't the slickest sales page I've seen, but don't let that put you off.  I've found that product creators that spend a fortune on their sales page and graphics often do it at the expense of the actual product itself.
Keep in mind that Andy Fletcher is very responsive to support requests and can incorporate new features quite quickly.  You don't often get that level of support and development turn around with other products.
As Andy mentioned in the interview, if you want to integrate a membership functionality with Digi Launch Pad, then you can just use one of the existing WordPress membership plugins.  There are many to choose from, but two that are very popular are:
If you want to integrate affiliate functionality, then I would recommend DigiResults (also created by Andy Fletcher)
In summary, if you want to simplify your product launch process, then I think $97 (one time payment) is a very small price to pay for such a good product that has most of the functionality of the more well known (and much more expensive) competitors.
Cheers