I was recently doing some keyword research when I thought I'd come across a really good keyword for a new Amazon store that I'd been planning on building.
However, after checking the search trends (in particular the regional differences), I quickly realized that the keyword was nowhere as good as I initially thought it was.
Given that keyword research is the foundation for any site, I think trend and regional data are often overlooked in the whole keyword research process.
In this article, I'll go through why analysing trend and regional data is a very important part of keyword research and why you shouldn't ignore it.
Video Summary
For those of you that prefer a visual medium, the video below covers most of what is written in this article.
Keyword Research Case Studies
I've had good success with Amazon stores and I was looking to get into the baby product market as that can a potentially very lucrative market to be in.
As a father, I recall just how much stuff you end up buying when you have a baby, so it seemed like a great market to tap into.
I use SECockpit for my keyword research as I can process huge amounts of keywords in a very short space of time.   Generally, I always leave the location set to "All countries and territories".
After using a few general seed keywords such as baby and baby products, I saw what looked like a very promising keyword as you can see in the screenshot below:

The keyword baby bunting really stood out with 49500 exact monthly searches and lowish competition and with appropriate products available on Amazon.
When I looked at the keyword in more detail, I decided to check it out in Google Insights.  One quick glance at the data, told me instantly that this wasn't a suitable keyword to target after all.
If you look at the Google Insights screenshot below: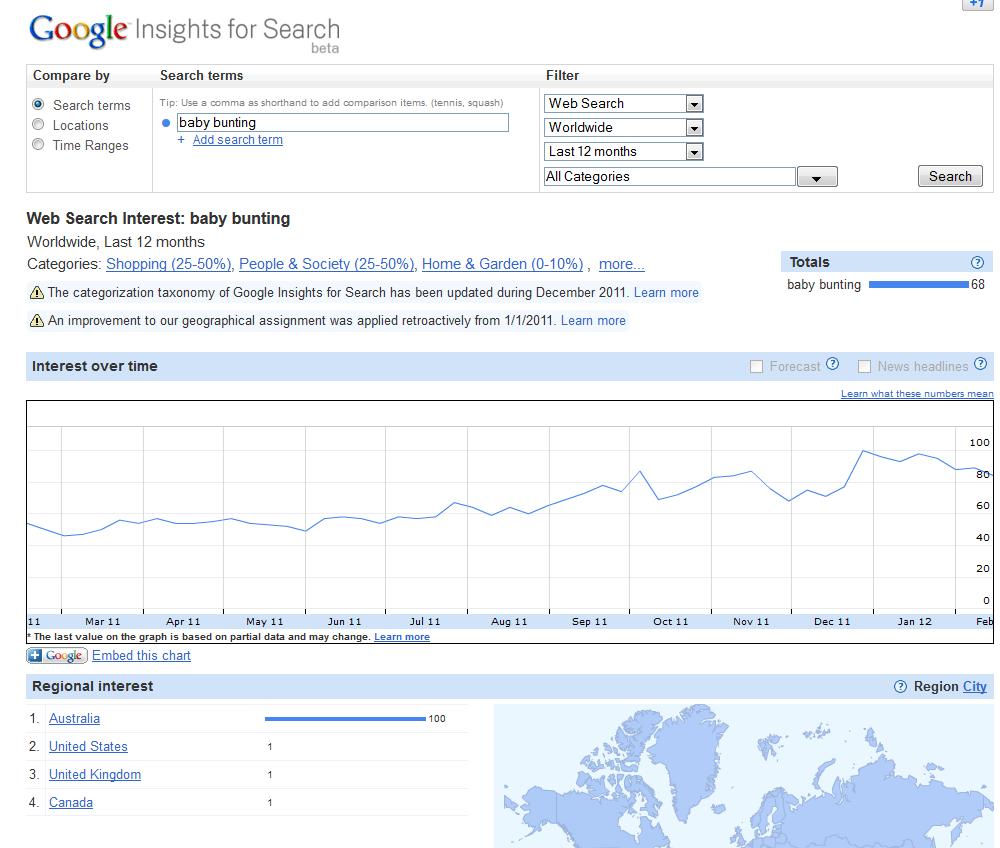 you'll see that while the trend data is very steady, under the Regional interest section, it shows that baby bunting is by far and away mostly used in Australia.
Amazon doesn't have an Australian presence and all my Amazon stores are targeting the US market, so targeting  baby bunting really wasn't going to be worth my while.
Now, what I really should have done from the beginning was to set my search location to be United States and I wouldn't have wasted a few minutes checking out a keyword that wasn't very worthwhile.    That's certainly something I don't forget to do now when doing keyword research for Amazon products.
Obviously, not everyone uses SECockpit, so let's have a look at the data if we were using Google Adwords Keyword Tool.
In the following screen shot, you can see I've set my location to be United States and Match types to exact.

You can see that search figures are:
Global Monthly Searches (GMS): 49,500
Local Monthly Searches (LMS): 1,900
That's a huge difference between the global and the local monthly figures as was clearly indicated in the Google Insights regional data.
Now the main reason for the difference is that baby bunting just isn't a very common term in the US, whereas in Australia it's a term commonly used.
As I don't live in the US, I try to keep in mind the differences between terms in the US and other English speaking countries, but I don't know them all.
I'll give you another classic example of a huge difference in search volume between the global and US local monthly figures.
In the screenshot below, you can see that the keyword car hifi gets:
Global Monthly Searches (GMS): 18,100
Local Monthly Searches (LMS): 91

Now let's look at the Google Insights data for car hifi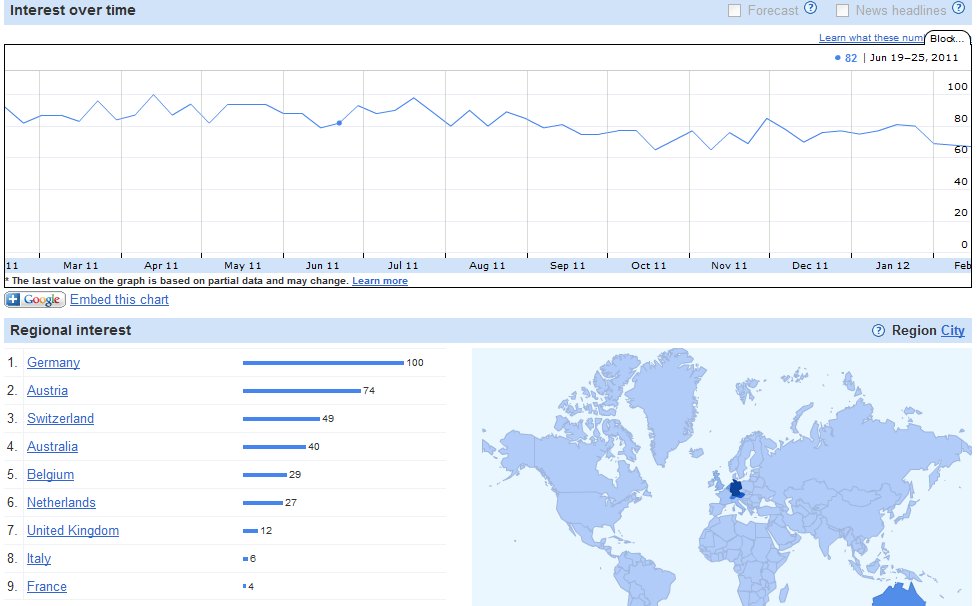 Here you can see that the United States doesn't even make it into the list of countries under regional interest.   Clearly car hifi is a term most common in Europe, UK and Australia.
Trend Data
While it might be obvious to some people that you should choose a keyword where the search volume isn't on a downward trend, it's still a step missed by a lot of people.
In general, you always want to ensure that your keyword has a steady or rising search trend.
The following graph from Google Insights shows the search trend for baby bunting from 2004 onwards.

 As you can see from mid 2010 onwards, there is a very nice upward trend.   However, you recall previously, this keyword would currently only be suitable to target an Australia audience.
The same principle applies to seasonal trends, eg: Christmas, Valentines Day, Halloween etc.
The following graph shows the trend data for the term christmas gifts:

As you can see, there is an obvious peak over the Christmas period, but apart from 2004 and 2005, the peaks from 2006 onwards are all pretty much consistent, so you could classify this as a steady trend.
Taking a look at the other side, there are two main reasons for a declining search trend.
1.  A term that slowly declines due to waning interest or being superseded by something else.
2.  A short term fad where there is a big spike in popularity followed by a sharp decline.
An example of a search trend that are slowly declining are technology products that are becoming redundant, eg: VCR player, pager and fax machine
An example of a fad is myspace.   The following search trend graph illustrates very clearly the impact that Facebook had on myspace.

The Exceptions
There are a few exceptions to the cases I've already written about.
Sometimes, you don't need to be so concerned with regional differences if the product or service you are promoting has a wide appeal across many countries.  Examples of this are: informational products, software, books and music.
With trend data, it obviously applies to search terms that have been around for a little while, but sometimes you may want to jump onto the bandwagon of some new technology that's just about to be released but has no historic data to go on.  This is a bit of a gamble, but you can be rewarded for getting in early if it proves to be a very popular piece of technology.
Summing It Up
No matter what type of keyword research you are doing, it always pays to spend a short moment checking the trend and regional data.   It takes you very little time and could potentially save you a lot of wasted effort targeting a keyword in the wrong market.
Cheers