Whether you are an Internet Marketer or just have your own personal WordPress blog,  most people know that they really should have a backup, but haven't quite got around to doing something about it before it's too late.
Backups aren't the most exciting thing, but without a proper backup system in place, it can hurt really hard with all the work you may loose.
Like a lot of people, I've been doing adhoc backups of my main WordPress sites, but had no real backup plan in place.
I got motivated to look at WordPress backups in more detail after the disk in my laptop failed (yes, I did have a backup and yes I was able to completely restore everything).
So I've spent the last few days trying out pretty much every WordPress backup solution I could find.   I didn't bother with some of the WordPress backup plugins that were very old and abandonded.  I've concentrated on the free WordPress backup solutions, but do list a few of the paid WordPress backup solutions as well, although I haven't personally used them.
WordPress Backup Solutions Reviewed
The following is an alphabetical  list of the WordPress Backup solutions that I personally tried out:
Automatic WordPress Backup
BackWPup
EZPZ One Click Backup
myEASYbackup
Online Backup for WordPress
PressBackup
Snapshot Backup
Updraft
Xcloner
Additionally, I  have included some information on the following WordPress Backup solutions that I haven't had a chance to try yet:
Backup Buddy
VaultPress
WPTwin
Blog Zapper
The information in this review is based on my own personal experiences and on the versions of the software available at the time.  You may get different results on your server depending on the environment.
I'll will endeavour to update any information if there are major changes to the WordPress backup software.
Backup Features
When looking around for a good WordPress backup solution, you need to keep the following points in mind:
Is it robust?  This is critical for anyone wanting reliable backups.  I came across a few products that I wouldn't want to rely on for backing up my sites.
Is it easy to install and configure?  There's no point in installing a backup solution if it is too complex and time consuming to set up.  On the other hand, it is good to have enough configuration options to make it flexible.
Does is backup everything?  Not all WordPress backup solutions backup absolutely everything.  There's really not much point in doing a backup if it isn't 100% complete.
Can you schedule backups?  Not all WordPress backup solutions have a scheduling function.  They are more designed for adhoc, manual backups.
What storage options are available?  Some WordPress backup solutions only allow you to backup to the local server and let you manually download to your computer.  Others have options to transfer the backup to a FTP server or cloud storage service like Amazon S3.
Security.  Some WordPress backups create a full backup that you can download, but unless you have some restrictions around that like a unique backup name and/or password protected access, it means anyone can potentially download your backups.
Restore process.  It's one thing to backup your site, but if you need a bullet proof and easy way to be able to restore the backup or clone the backup to another site.
Backup Storage Options
The following are the most common options for storing WordPress Backups:
1. On the Webserver
Almost all WordPress backup solutions directly or indirectly store the backups on your local webserver.  This is OK for most purposes, but to be really robust, you should have a copy stored off site.
2.  Via Email
This method is OK for smaller backups, but if the backups get too large, mail servers will start to reject them.  Additionally, it isn't very secure as anyone can potentially access your backup if it is unencrypted.
3. To a FTP Server
This is one of the most common options to store your backups on another server.   You just need to make sure you have access to a server with FTP access.
4.  To a Cloud Storage Service
A cloud storage service is place where you can store any data you like (backups, videos, files etc) on storage servers provided by a company.  These services give you very high bandwidth access to your data and very high reliability.
The most common services are:
Another storage option which is quite popular is Dropbox
Dropbox gives you 2GB of free storage for storing whatever files you want including backups.
This was one of the first WordPress backup plugins to support Amazon S3.
Version 2 of the plugin was released in late 2010 (there have been some minor updates since then) which added an easy option for restoring your backups.
You must have an Amazon S3 account to be able to use this plugin.
The screenshot below shows the options you can set with Automatic WordPress Backup.
The steps are pretty straight forward:
Add your AWS keys
Select or create an S3 bucket name for the backups
Set the backup schedule
Select which parts of the blog to back up (in most cases you want all options selected)
Select whether to delete old backups (not really an issue unless your site is huge)
Select whether you will have a credit in your footer or write a review of the plugin.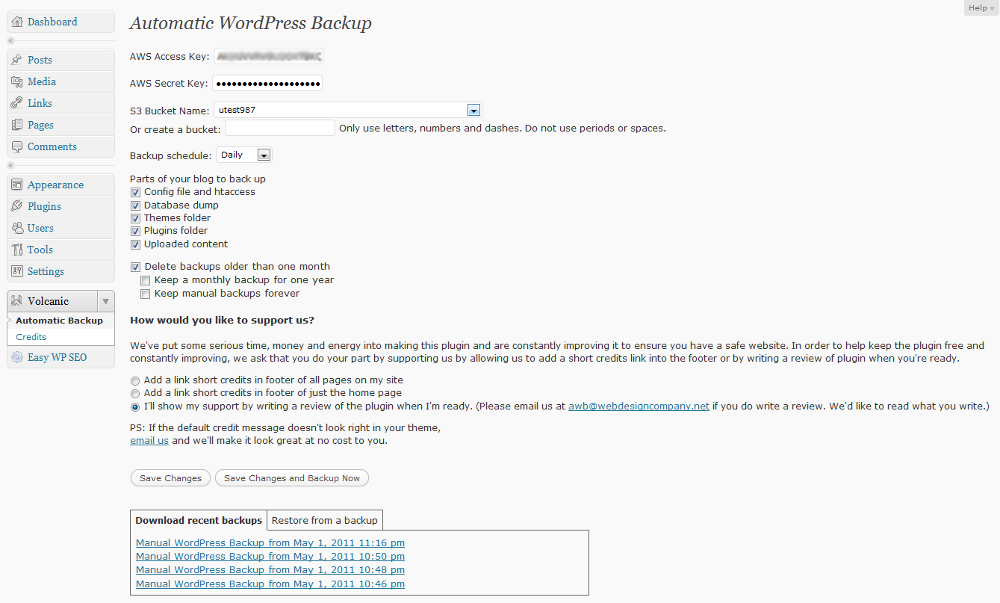 That's all that's required.
You can click on the "Save Changes and Backup Now" to do an immediate backup (highly recommended after first installing the plugin).
Automatic WordPress Backup has a simple menu to restore from a backup where you select the particular backup you want to restore and click on the "Restore from backup" button.
It then displays a message saying it is restoring from the backup and will be finished when the page refreshes.  This is a little concerting as you don't get a nice bold confirmation when the restore has finished, but in my reasonably limited tested, the restore function worked just fine.
Good Points
Simple to install and set up.
Has an option to do manual as well as scheduled backups
Has a simple restore function.
Bad Points
Limited to users with Amazon S3 accounts.
BackWPup – by Daniel Hüsken
BackWPup has quite a number of configuration options.
It works by creating a ZIP (other formats supported) file of your site (includes the database and all the files) into a unique folder name under the wp-content folder.
Once the backup has been created, you have the option to send it to:
A FTP server
Amazon S3
Microsoft Azure
Rackspace Cloud
Dropbox
SugarSync
Email
This gives you quite a bit of flexibility as to how and where you like to store your backups.
The configuration options are quite detailed, which may put some people off if they like the options to be simple and more limited.
The following screenshot shows a portion of the options to set up a backup job.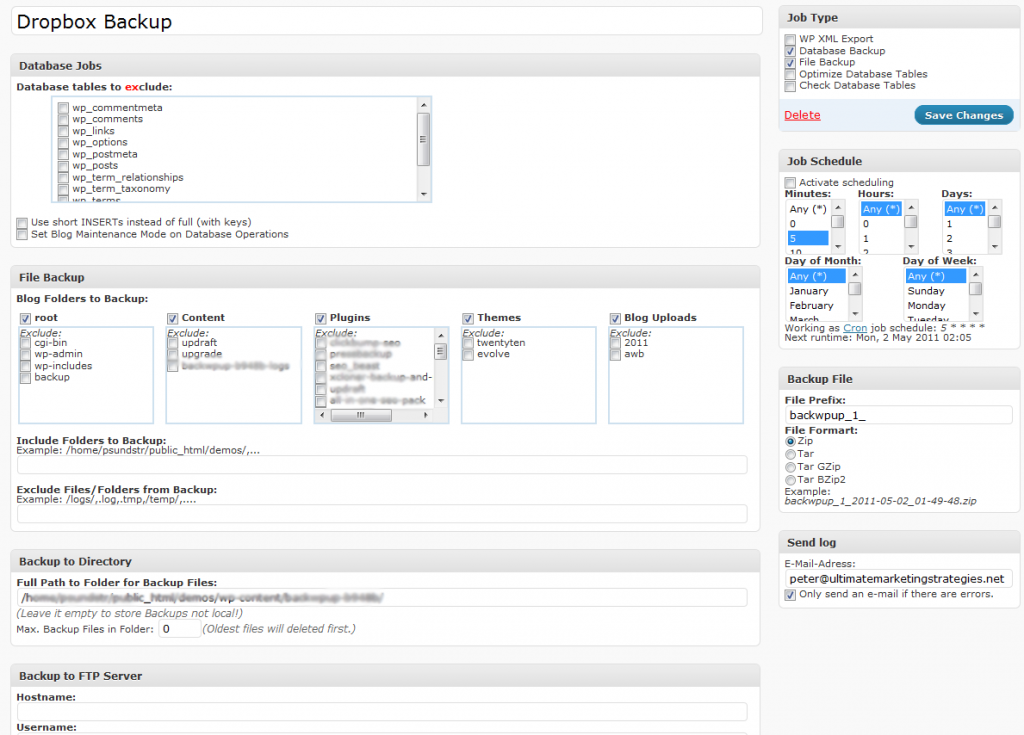 Good Points
Very flexible with how you want to set up the backup.
Supports many different methods for storing the backup.
Good logging.
Bad Points
Might be a little too complex for some people.
The restore process is semi-manual.
The premise behind EZPZ One Click Backup is that you can install it and start doing backups without setting anything.
There are options for scheduling the backups, along with filters to exclude certain folders, but these are optional.
By default, EZPZ One Click Backup creates the WordPress backup on your server.  You have the option to manually download the backup or you can purchase an EZPZ One Click Backup extension for $2.95 that will enable an option to save your backups to your Dropbox account.  Alternatively, you can specify a FTP server to send the backup to.
The following screenshot shows the output the plugin generates when it creates a backup.

Good Points
Very simple to set up and use.
Fairly simple restore process.
Bad Points
Limited options for storing the backup off-site.
myEASYbackup is designed to do manual backups of your WordPress site with the option to send the backup to email, FTP or use a storage service created by plugin author.
On first glance, the interface looks very slick with nice graphics and layout, however I didn't find it that intuitive when I started using it.
Here's a screenshot of what myEASYbackup looks like: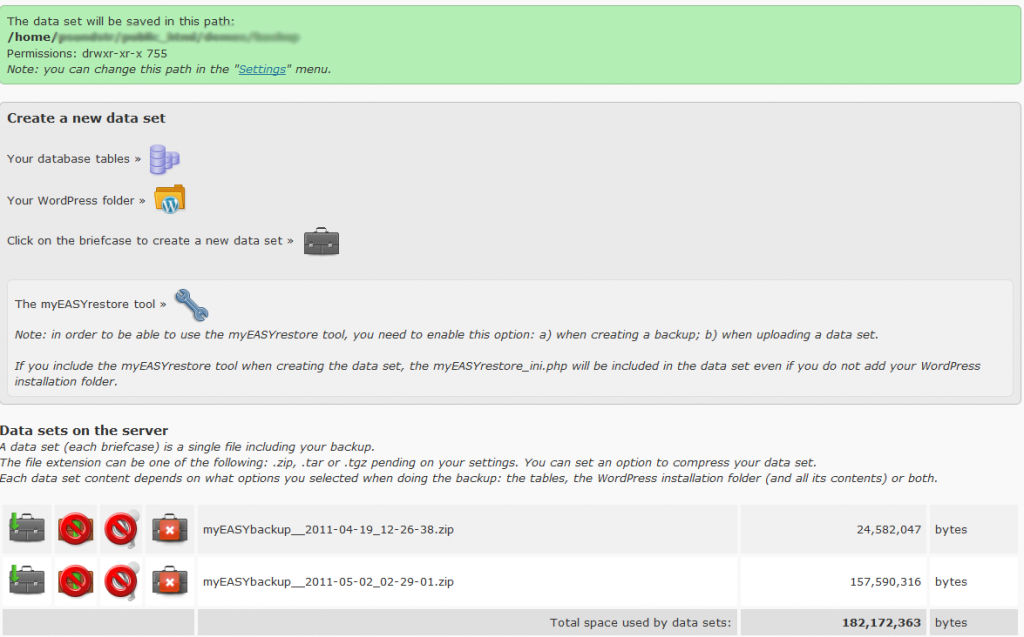 Good Points
Allows you to store the backup outside your web folders for better security.
Bad Points
No scheduling option.
Slightly confusing interface and mode of operation.
[Updated details on 12 Oct 2011 with the release of new version]
Online Backup for WordPress is a backup solution produced by Backup Technology that allows you to backup your WordPress securely to Backup Technology's storage servers.
Version 1 of the plugin only backed up the database, but since the release of Version 2, it allows you to also includes all the WordPress files (eg: plugins, images, themes etc) with the backup.
Before you can start any backups, you need to create a free account on the Backup Technology site that gives you access to 100MB of free storage.  You need to set up one account per WordPress site.
The following screenshot shows you the single configuration and backup page for the plugin: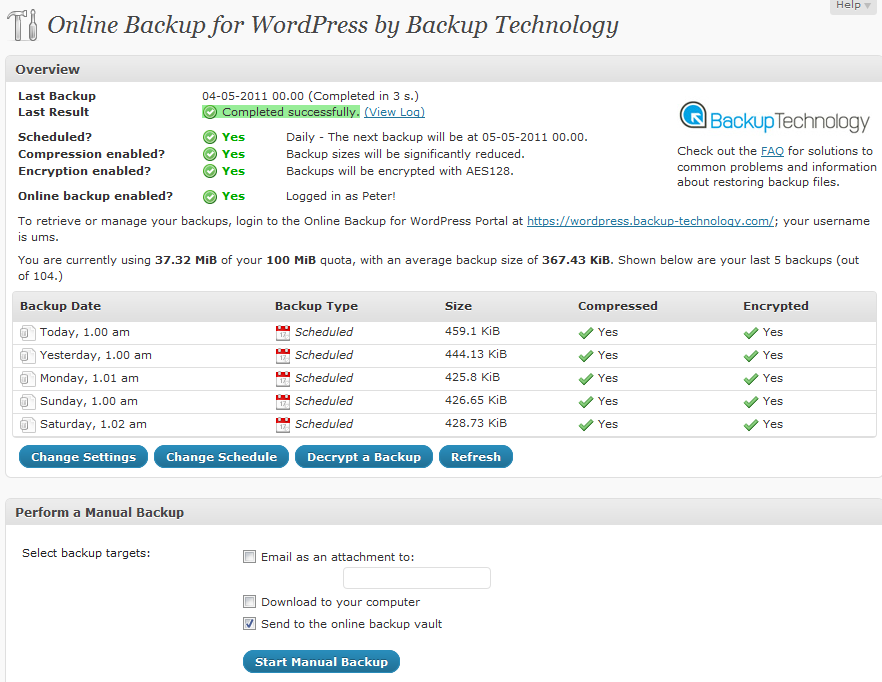 Good points
Simple to install and use.
Encrypts your data.
Includes a restore process.
Bad Points
No real bad points to speak of.
PressBackup is available as a free plugin if you backup to your computer or Amazon S3.  They also have a subscription if you want to use their storage service.
Setting the backups is very easy to do via the PressBackup wizard.  Once you've run the wizard, you can either run a manual backup or wait for the scheduled backup to run.
The interface is straight forward as the following screenshot shows:

Good Points
Very easy to set up.
Has a built in restore option.
Bad Points
No support for FTP servers.
Can't specify the S3 bucket name the backups get stored in.
Snapshot Backup is a simple plugin that backups up your WordPress site and sends it via FTP.
There's not really much else to describe as there aren't many options as you can see in the screenshot below: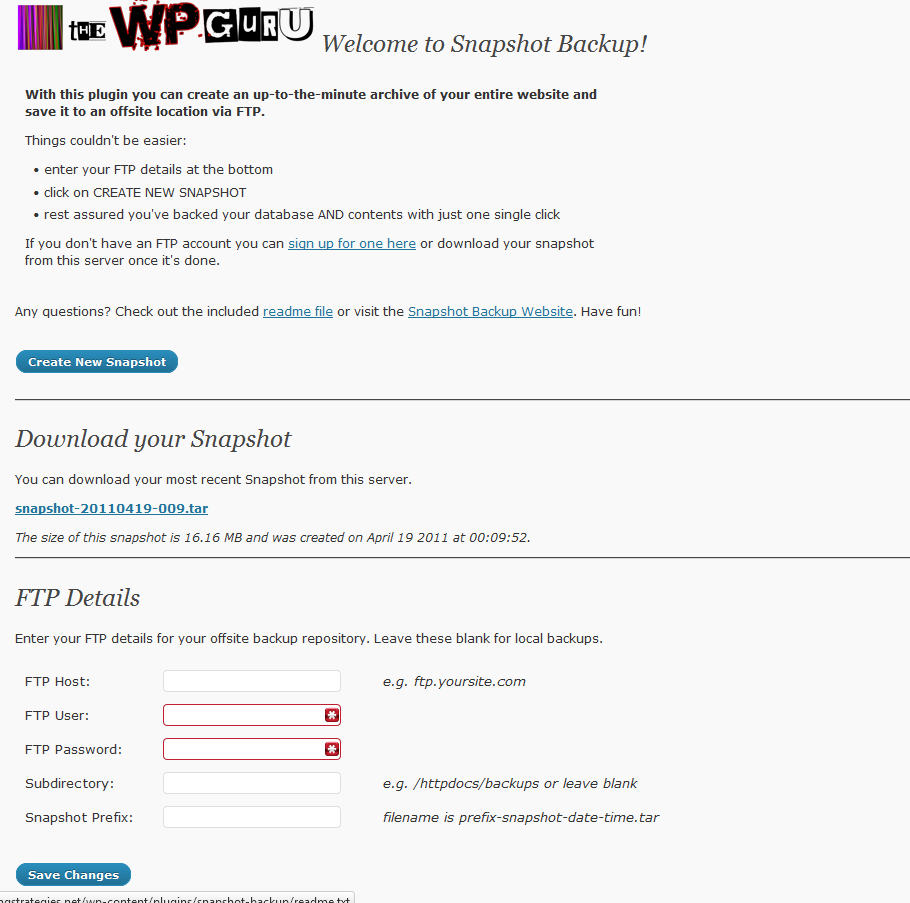 Good Points
Bad Points
No automated backups.
The configuration options are found under the Dashboard menu (last place I'd expect a plugin config to be)
The backup is stored locally in a non-unique folder which means it could potentially be downloaded by someone else.
No restore option.
To be fair, this plugin is quite new and there are a lot of features on the roadmap, so you may find some of the issues above are addressed in later versions.
Updraft – by Paul Kehrer
Updraft gives you the options of manual or scheduled backups of your WordPress site to your local server, email, FTP server, S3 Amazon or Rackspace Cloud.
The configuration options are quite straight forward and there is context help for each option.
The following screenshot shows the single configuration/backup/restore options: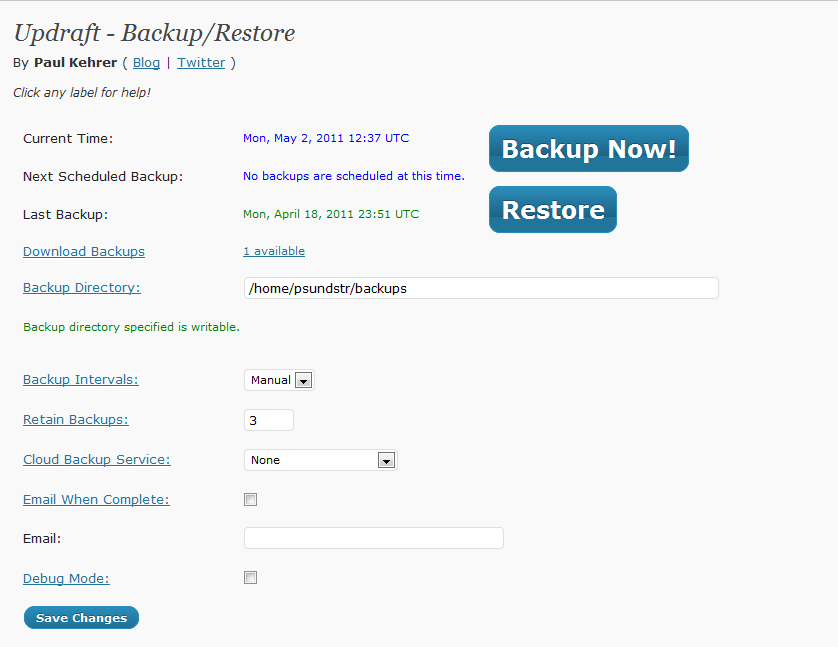 Good Points
Good selection of backup destinations.
Easy to use interface.
Bad Points
After playing around with the backup directory location, the Updraft got confused as to what backups were available.
Hasn't been updated since July 2010, although the author mentioned he'd release a bugfix in Feb 2011.
Xcloner – by Liuta Ovidiu
Xcloner is a backup and restore application  that will backup any PHP/MySQL website and is available as a native plugin for WordPress and Joomla.
The software is free and there is an option to pay for professional support.  If you don't want to pay for support, there is a free forum available to get help.
Xcloner has options for backing up to your local server, FTP server, via email and to Amazon S3.
You can restore your backups or clone them to a new site by specifying the FTP details of the new site and database details (this part is a manual process).  The restore script then does the rest for you.
As the Xcloner works on generic websites, Joomla and WordPress, the interface is a bit different to most WordPress plugins.
There quite a few options, but it doesn't take too long to be familar with the setup.
The following screenshot shows the main configuration page: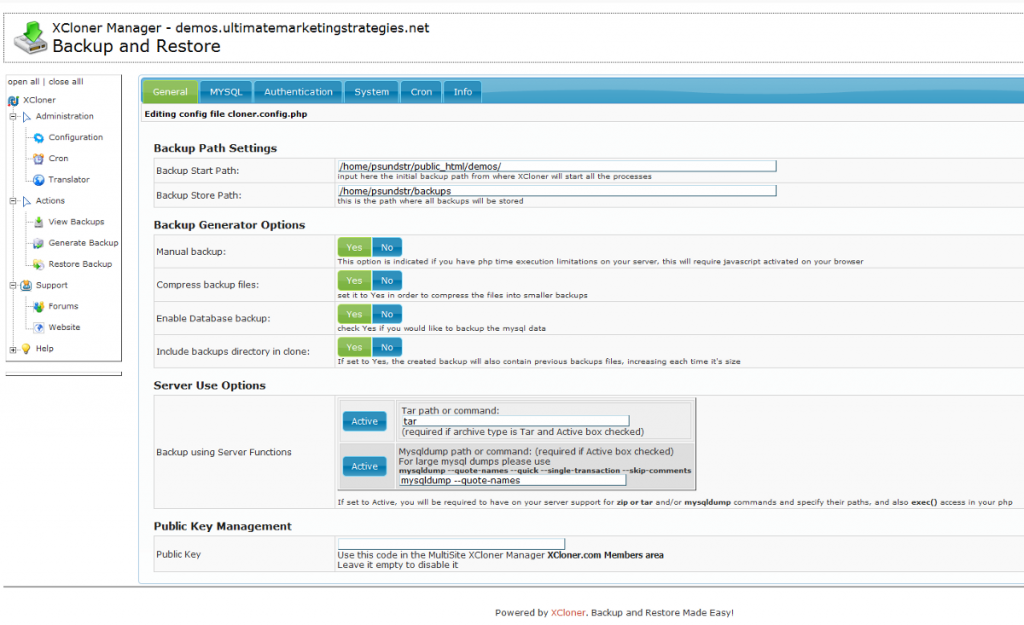 During my testing of Xcloner I did have some issues with the backups not fully completing.  The support for Xcloner seems to be good, so I posted on the Xcloner support forums and will hopefully get an answer as Xcloner does look very promising.
Good points
Can use on generic websites as well as Joomla and WordPress sites.
Good range of backup options supported.
Has an easy option for restoring and cloning WordPress sites.
Good documentation.
Support forum.
Bad points
Can take a little time to learn how to use.
Scheduling has to be manually set up.
Paid WordPress Backup Solutions
The following is a list of WordPress backup solutions that either have a one off payment or a subscription payment.
I haven't personally used any of these backup solutions, but I am providing them for completeness.  The information I'm giving is based on what's available on the products website.
BackupBuddy allows you to backup your WordPress site to a FTP server, Amazon S3 and Rackspace Cloud.
It is a complete WordPress backup solution as you can schedule backups and either restore them if your site is corrupted or migrate/clone them to a new site.
Pricing is based on the number of WordPress sites you want to backup:
$45 for 2 sites
$75 for 10 sites
$150 for unlimited sites
VaultPress allows you to have realtime backups of your WordPress sites.  That means whenever a new post,  comment or any other content is changed or added to your site, the changes are synced to the cloud storage services.
Pricing is based on a monthly fee.  Currently this is set to:
Basic – $15
Premium – $40
Enterprise – no pricing available at the time of writing.
WPTwin – by Jason Fladlien and Wilson Mattos
WPTwin is primarily designed to clone WordPress sites and costs $97.
It is not a WordPress plugin.  To clone a site requires FTPing a script onto the source and destination servers.
WPTwin does have a very good reputation and I haven't seen any bad experiences with it.
As WPTwin doesn't have a scheduling option, it is better suited to one-off or adhoc backups.   This means it wouldn't be very suitable for auto-blogs.
Blog Zapper works in a very similar fashion to WPTwin in that it is a standalone utility that you can use to copy, backup and clone your WordPress sites.
The cost of Blog Zapper is $37.
Conclusions On The Best WordPress Backup Solution
I can't tell you precisely which WordPress backup solution to use because it depends on your budget, the number and type of WordPress sites you operate, the amount of data you have to backup, how often your content gets updated etc.
Hopefully the information I have given in this article will help you make a decision as to which backup solution to choose.
I would love to hear your experiences with whatever WordPress backup solution that you are using.
If you know of any good WordPress backup solutions I haven't covered here, please leave a comment and I'll endeavour to add them to this review.
Cheers