Niche Finder is a new keyword research tool created by Brad Callen.
The keyword research tool market is very competitive with many products on offer, so how does Niche Finder stack up against the competition and where does it fit in the niche research market?
The first thing to point out about Niche Finder is that it is a tool designed specifically for keyword research without all the extra stuff that can sometimes over complicate a product.  Brad claims that his aim with Niche Finder was to design a tool that was very simple to use, yet very effective.
Has Brad succeeded with that claim?
Niche Finder Overview
| | |
| --- | --- |
| Product: | Niche Finder |
| Creator: | Brad Callen/Bryxen Software |
| Product Type | Software (currently only for Windows) |
| Price: | $97 one time payment |
| Upsells/Offers: | $40 discount on SEO Elite software |
| Guarantee: | 60 day full refund |
Features of Niche Finder
I personally think one of the best features of Niche Finder is that it is very simple to use and find good keywords.
There's no learning curve like a lot of other keyword research tools.
The interface is very clean as you can see from the screenshot below.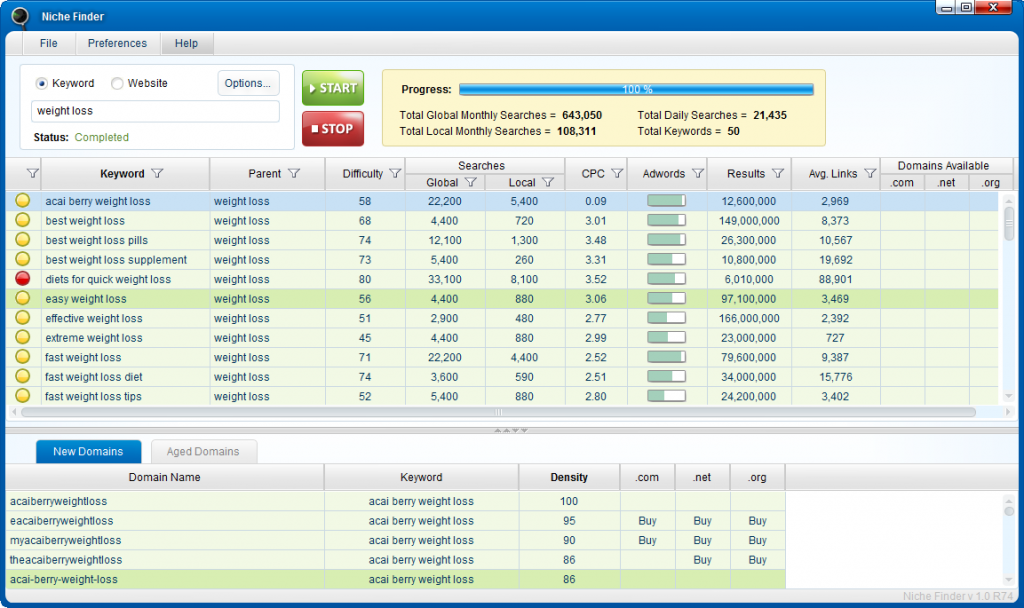 Once all of the data has been retrieved, you can easily sort any of the columns or add filters to narrow down the information.
One feature that is very handy for narrowing down suitable keywords is the difficulty score.  This is a score between 1 and 100 that indicates the difficulty of ranking for that particular keyword.  The first column also shows the niche difficulty with colors.
green = easy
yellow = medium
red = hard
So if you were working on a large set of keywords, you can simply add a filter to exclude all keywords in the "hard" difficulty range, so that you can concentrate on more manageable keywords.
Obviously, you do need a little caution with completely relying on the difficulty rating.  What I do is if I find a good keyword, ie: good amount of global monthly searches and low/medium difficultly, I do a sanity check by cross referencing with some other keyword tools I use, plus a good old Google search and eyeballing the top 10 results.
That said, I've found the difficultly ranking to be quite good and is certainly a very handy guide when sifting through lots of keywords.
Demonstration of Niche Finder
I originally wrote this review in Dec 2010.  Since then, Brad has added a number of new features to Niche Finder.   Most notably, getting backlink data from Majestic SEO and domain availability information from Domainface.
Below is the Brad Callen's video demonstrating the latest features of Niche Finder.
Below is my original review video.  While Niche Finder has changed a bit since I recorded the video, the core functionality of Niche Finder hasn't changed.
Final Thoughts on Niche Finder
Like a lot of internet marketers, I own and use a variety of tools and services for keyword research.  Most notably, my other favourite keyword research tool is SECockpit.
What I like about Niche Finder is its simplicity.  Generally, if I'm researching a new niche, I'll fire up Niche Finder first, then when I've found some potential keywords, I'll inspect them further with some of my other tools like Traffic Travis.
If you already have a keyword research tool that you are very happy with and good results from, I wouldn't necessarily suggest you purchase Niche Finder.  However, if you are looking for your first keyword research tool or another method to compliment your keyword research, then I think Niche Finder is a pretty solid investment.
>>Click here to check out Brad Callen's Niche Finder Tool<<
Cheers