URL Redirection (also known as URL Forwarding, Domain Redirection and Domain Forwarding)  are used extensively on the web for great variety of purposes.
Simply put, URL redirection is when a request to a particular URL results in the request being redirected to another URL.
In some cases, a redirected URL will in turn be redirected to another URL and you end up with a chain of redirects.
Common uses for redirects are:
Directing users and search engines to a new page after a website redesign or a move to a new domain to avoid 404 page not found errors.
Masking affiliate links by presenting a "friendly" looking link that redirects to an affiliate link.
Temporarily presenting a specific page when a website is down for maintenance.
Redirecting from the www to the non-www version of your domain, or vice versa, to ensure both versions are seen as the one website.
Shorten long URLs to an easier to remember and easier to type URL.
It's not always easy to see exactly where a redirected URL ends up without actually clicking on the link.   Additionally, if there are a number of intermediate redirections, these generally happen too fast to see in the browser status bar.
I wanted a tool that would visually display URL redirects.  After checking out existing tools, I didn't find any that worked correctly and I wanted something that would display the different redirection types in a specific way.
After investigation, I decided to develop my own free tool called Redirect Detective.
Redirect Detective recognizes, the following types of redirects:
301 Permanent Redirect
302 Temporary Redirect
307 Temporary Redirect
Meta Refresh
HTTP Refresh
Additionally, it will also detect:
403 Permission Denied
404 Page Not Found
500 Internal Server Error
The following screenshot shows an example of an affiliate link that uses a variety of redirects to reach the final destination: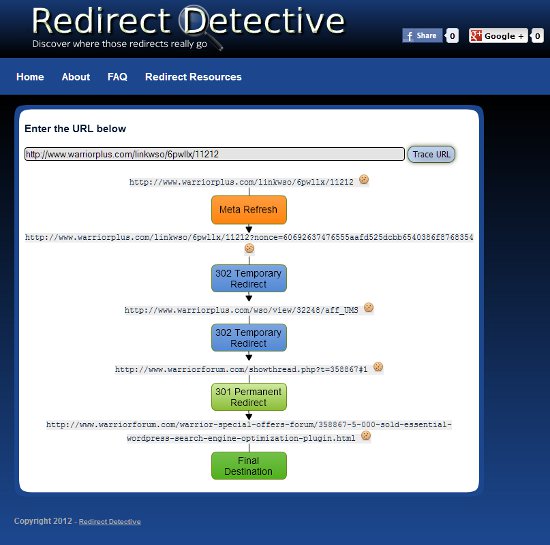 The different server responses and redirects are colour coded to make it easier to see what type of redirect is being used.
Additionally, if cookies are being set at any particular point, the cookie item will be displayed and if you hover your mouse over it, the number of cookies being set will be displayed.
Video Overview of Redirect Detective
The video below gives short overview of the types of things you can use Redirect Detective for.
I hope you find the tool useful and I welcome any feedback you may have regarding use of Redirect Detective or any enhancements you would like.
Cheers