There are a number of legitimate reasons why you want to perform Google searches with privacy.
Just because you don't want Google tracking your searches, doesn't mean you are up to something bad like looking for illegal software or spamming purposes.
This article covers why it is a good idea to not let Google have access to your search history and how best to perform private Google searches.
Unbiased Google Searches
I'm sure most of you will have had an experience where you have searched for a particular keyword you are trying to rank for and thought you were ranking very well.   That is, until you got someone else to search for the same keyword and discovered that it was actually ranked way lower than you initially thought.
The reason this happens, is that Google will bias your search results based on previous searches.   That means if you are searching for a particular keyword multiple times and clicking onto your site, Google assumes that the site you are clicking on is more relevant to your query and will place it higher up in the search results next time you do the same search.
This is particularly this case if you perform your Google searches while you are logged into your Google account.   However, even if you aren't logged in, Google still tracks some of your searches via cookies and IP address.
There are various approaches you can use with varying degrees of success, such as:
Clearing your browser cache and cookie history
Using "private mode" setting in your browser
Using a different browser from the main one you use for most of your searches
Using Chrome incognito browsing mode (do you really trust Google to make a browser that hides 100% of the data from itself?)
While the above methods are OK, they can be a bit of a hassle to do every time you want to do a search.
In the past, I used a site called Scroogle.  This site allowed you to do anonymous and unbiased Google searches with no privacy concerns.
Unfortunately, Scroogle was closed down in early 2012, which left a lot of people looking for an alternative service.
Startpage
I only recently came across a site that is quite similar to Scroogle, but has been around for quite a while.
Startpage has a very similar look to Google and allows you to perform Google searches with no cookies or IP address being tracked by Google.   You can read the full Startpage privacy policy here.
I should point out in case there's any confusion, that startpage.com and ixquick.com are the same sites except with a different logo.
The following extract is from the Startpage company background:
Startpage was released in 2009 in the United States as a new name for the Ixquick search engine. Because the name Ixquick can be somewhat difficult to remember and spell, people asked us for an easier name, and we were happy to oblige. Startpage uses Ixquick's search methodologies and privacy features, and is governed by the same privacy policies. Startpage is only available in the English language at present, but we expect to launch Startpage in additional major languages later in 2010.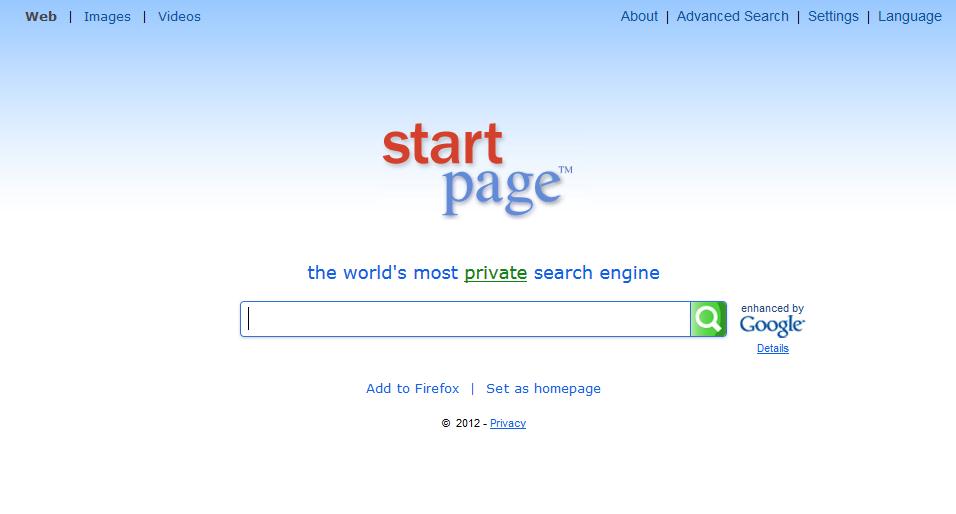 Startpage uses SSL by default (ie: https://), so that means that all your searches are encrypted, which gives you another level of privacy.As
The results page is quite similar to Google results page, with some minor differences:
Startpage returns just websites, whereas Google results can include videos, Google Places etc in the results.
Startpage doesn't display Google Ads, but display their own version of Ads (which is how they fund the service).
Startpage has a minimal number of options in the left sidebar (which is a good thing), compared to the ever growing list that Google displays.
The following two screenshots show the results page for "dog training" from Startpage and Google.
Please note that as I'm based in New Zealand, both results are querying google.co.nz (more on geo-location in the next section).
Also note that I use an Adblocker, so the screenshots don't show any Ads.
Startpage Search Results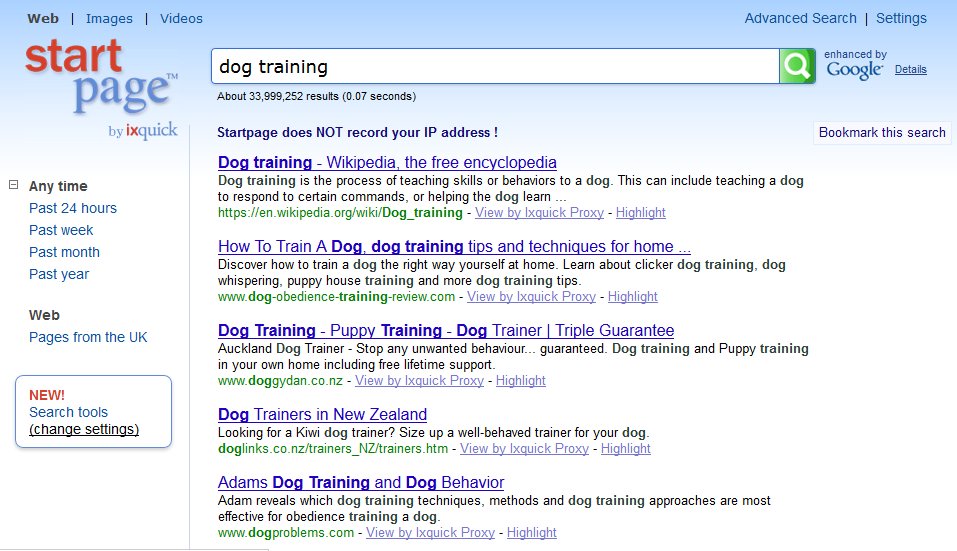 Google Search Results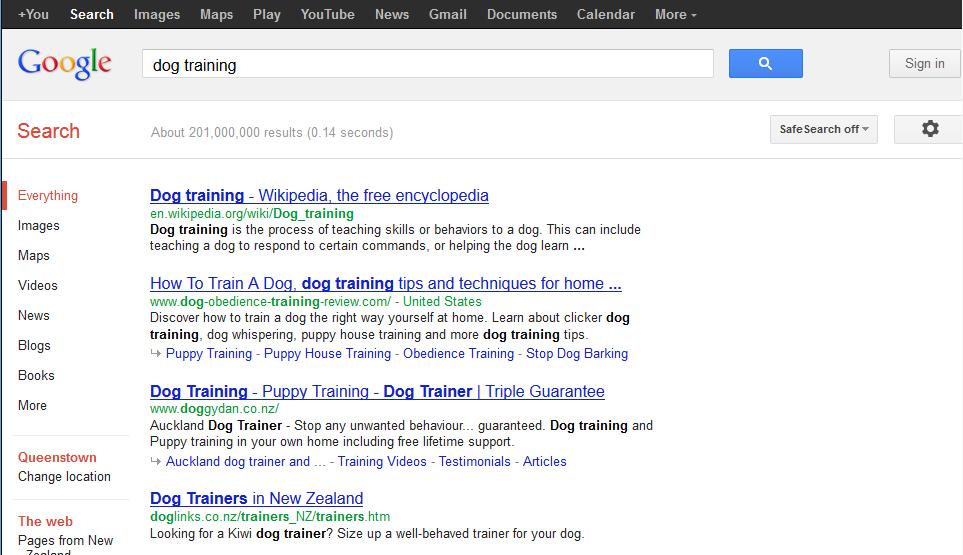 Startpage Video Overview
If you prefer the visual medium, the video below I made gives you an overview on using Startpage.
Anonymous Web Browsing
When you look at the Startpage search results, you will see a link titled: View by Ixquick Proxy
This allows you to view the particular web page via the Ixquick Proxy.   This allows you to view web pages completely anonymously as the website can't set any cookies or use any other tracking methods to identify you.
There are some limitations with using the proxy, such as:
Slower performance
Javascript is disabled (which can be a good thing if there is malicious Javascript on the web page you are viewing)
The following short video gives a good overview of the Ixquick Proxy and how it helps your privacy.
Geo-Location Searches
As I previously mentioned, I'm based in New Zealand, but a lot of my marketing sites are targeting the US audience.   One aspect of Scroogle I liked, was to be able to see US results for my searches.
If I want to do a Google US search, I can simply go to google.com and type in my search query.   Note that in the past, if you typed in google.com, Google would automatically redirect you to your local Google site, but this is no longer the behavour.
As you've probably seen from the Startpage screenshot, the results are coming from my local Google location, ie: New Zealand.
On the Startpage Privacy Q&A page, it states:
Q: Where are Startpage's servers located? Startpage has server clusters in the Netherlands and the United States. Startpage typically routes European searches to the European servers, American searches to the U.S. servers, and searches from other countries to the closest location. On the rare occasion that there is a problem in one facility, searches are briefly handled by the other facilty.
If you want to perform a search based on a different region, you can use the Startpage Advanced search options and set the region, eg: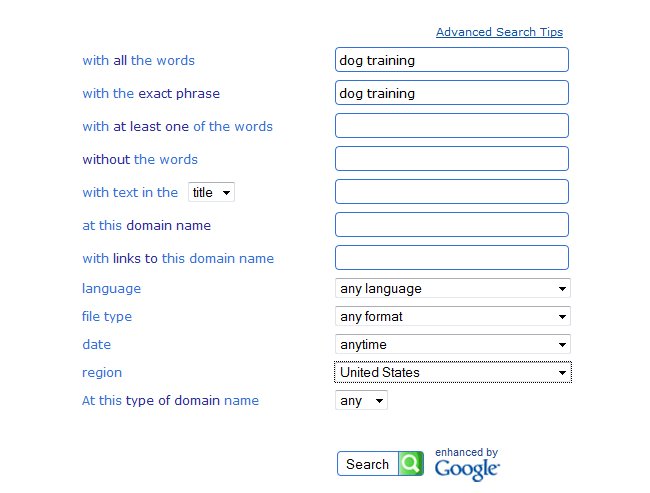 However, I found two issues doing this:
You can't do a default broad match search.  You need to redo the search query once you are on the search results page.
More importantly, I couldn't get similar results between Startpage and Google when doing US based searches.   I don't expect the results to be completely the same due to a whole range of variants, but the results I was seeing were quite different and I couldn't account for the differences.
In Summary
Startpage is great resource to use if you value your privacy when you perform Google searches and need to do anonymous web browsing.
It is also a good resource if you want to check unbiased local searches, but don't rely on it for search result positions outside your region.
Cheers